The ENERGYMAIS Project
The ENERGYMAIS Project - Energy from renewable fonts
The "ENERGYMAIS" project consists in a complete system, designed to produce thermal energy (and soon electrical energy) by a combustible obtained from biomass, using an innovative combustion method with high efficiency and low ashes.
Times and realizations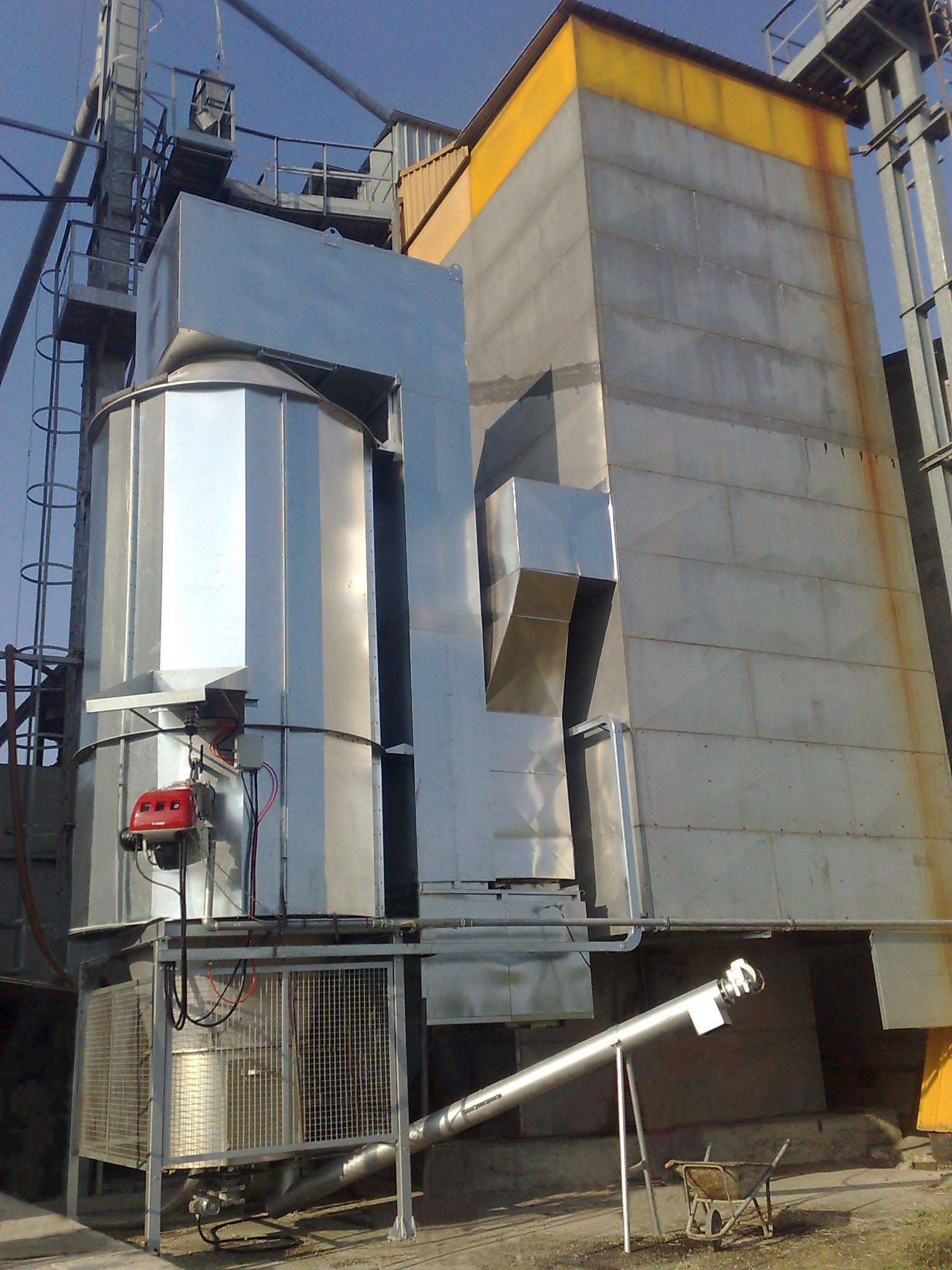 2005 - 2006 = Study, design, manufacture of a prototype specifically designed for renewable energy production from biomass. Combustion tests of biomass (corn and barley grains, pellets, walnut shells).
2007 - 2008 = Manufacture of 3 burners with potential output of 800 kW, applied to recycling dryers for rice, optimizing the performance and resolving the problems caused by ash and emissions into atmosphere. Combustion of corn and barley grains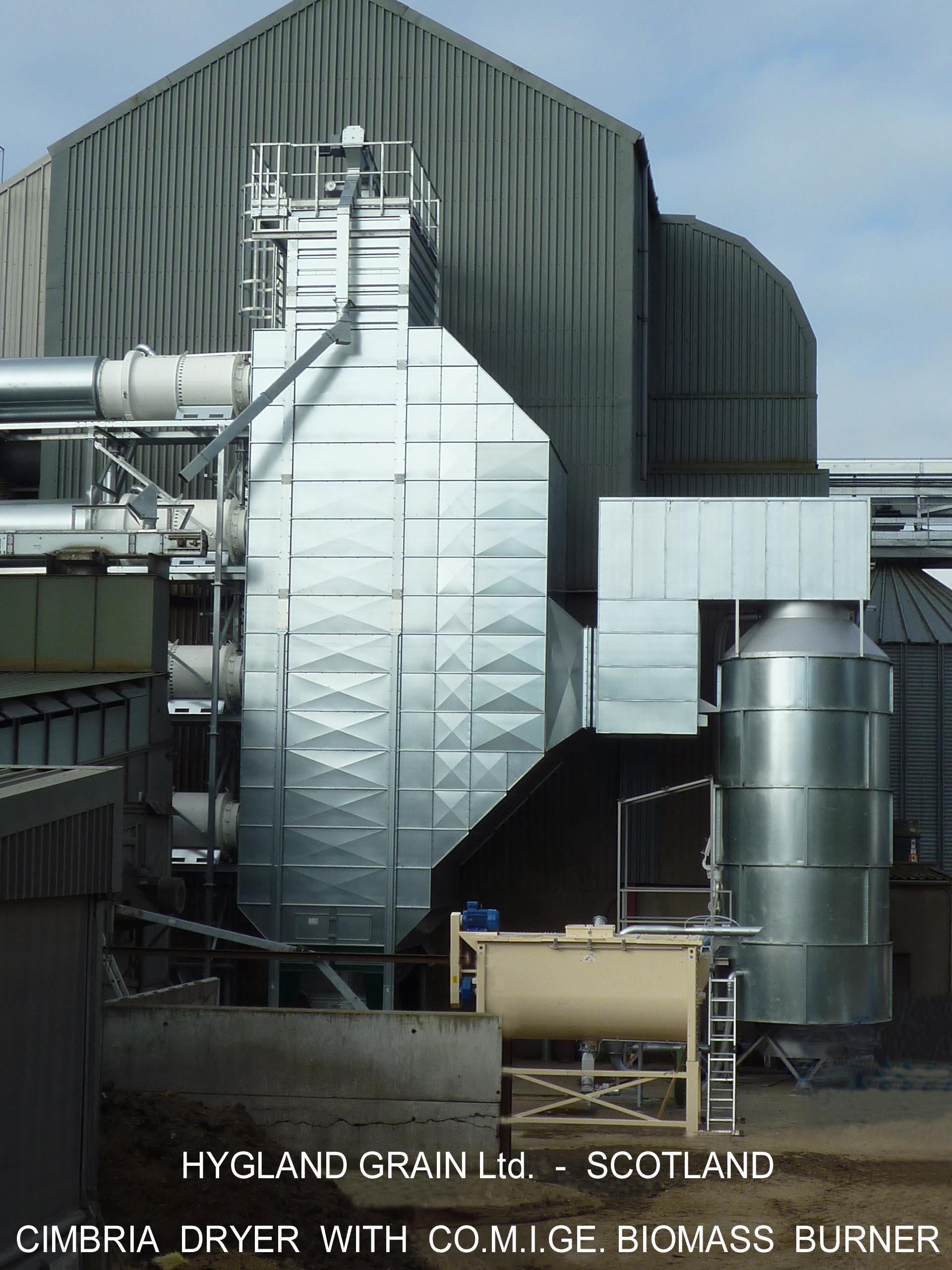 2010 = Manufacture of a burner with potential output of 1400 kW applied to a continuous dryer for cereals, 300 tons/24h. Burning exclusively seconds and wastes from cereal drying (corn, barley, soya, sunflower)
2012 = Manufacture of a burner with potential output of 1900 kW applied to a continuous dryer for barley, 300 tons/24h. Burning exclusively seconds from barley drying
Climate changes
It is well known that the use of fossil fuels, such as oil, methane and LPG gas, contribute to the climate change. So it is necessary to find alternative sources of energy. Biomass as an energy source is "renewable" and is considered "CO2 neutral" because its combustion releases the CO2 absorbed by the plant during its growth. The replacement of fossil fuels with renewable biomass is therefore a solution to reduce CO2 emissions into the atmosphere.
Production of food and non-food biomass
In the near future there will be a significant increase in demand for food due to population increase, which will lead to a high demand for agricultural products. Biomass for energy production, will compete with crop production for food use. Agricultural products will be intended primarily for food, taking into account that a large amount of bio-energy can be recovered from seconds and wastes.
Biomass burning
In general, much of the agricultural biomass resulting from crop production can be burned due to its chemical composition and good Calorific Value, but can have problems of ash fusion (clinkering) in the combustion chamber and fly ash emissions into the atmosphere. In addition, the density and moisture of biomass can be highly variable and cause difficulties when introduced into the furnace and combustion problems can arise. The solution was the design of an innovative combustion system, called:
Pulverized biomass cyclonic burner "ENERGYMAIS"
This burner burns very finely milled biomass, and achieves a very efficient combustion, which produces very low ash, of about 1% - 2%.
The prototype was designed to be used on a dryer for rice and for testing the combustion of various types of biomass, as corn and barley grains, then wood pellets, walnut shells, etc.
| CORN GRAINS | BARLEY GRAINS | WOOD PELLETS | WALNUT SHELLS |
| --- | --- | --- | --- |
| | | | |
We finally concentrated our efforts on burning waste and by-products, such as broken or bad grains, cobs, leaves, husks, shells, powders. These are the seconds that come from the production of cereals and seeds, mills, and other agricultural activities, which often have a zero cost but could create problems with regard to disposal costs, including transport and landfill.
| BARLEY SECONDS | COATED OR BAD GRAINS | CORN SECONDS | LOLLA DI RISO |
| --- | --- | --- | --- |
| | | | |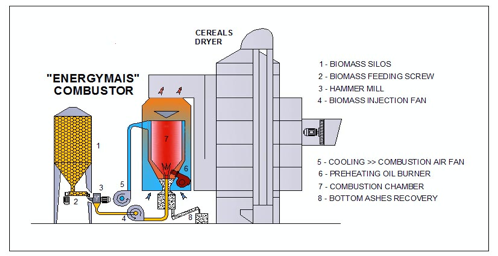 LAYOUT The biomass, stored in a silo (1), is discharged to a hammer mill (3) using a power supply (2) that delivers the correct amount needed to maintain the exact temperature (+/- 1 °C) required by the drying process. The ground biomass is sucked by the fan (4) and delivered under pressure to the combustion chamber (7). A traditional oil burner (6) (which can also operate independently, without biomass) raises the temperature the combustion chamber, then shuts down after which there is continuous combustion of biomass alone. Ambient air (5) is used to keep the temperature of the furnace walls under control, then heats up, becomes combustion air, and is mixed with the flow of ground biomass. The ash is collected at the bottom (8) where it is scraped out into a container for later use, or can be used to spread back on land to restore the balance of minerals removed from the plant during growth.
Economic Results
The result depends on the simple relationship of energetic equivalence:
1 kg OIL = ~ 2 - 3 kg. BIOMASS (seconds and by-products from corn, barley, soya, rice, sunflower drying)
CEREAL SECONDS AND WASTES VALORIZATION VS. OIL
Calculations for a corn DRYER, std. conditions
U.M.
DRYER
DAILY PRODUCTION
tons/24h
3.000
4.000
5.000
CONTINUOUS WORKING DAYS
days
30
30
30
SEASONAL PRODUCTION
tons
90.000
120.000
150.000
CALORIFIC VALUE, OIL
kCal/kg
10.200
10.200
10.200
OIL AV. CONSUMPTION PER 100 KG. CORN
Kg/100kg
1
1
1
OIL CONSUMPTION PER SEASON
Kg
90.000
120.000
150.000
OIL COST (Italy 2013-14 agric.)
€/kg
1,00
1,00
1,00
TOTAL OIL COST >>> SAVINGS
€/season
90.000
120.000
150.000
AV. CALORIFIC VALUE, BIOMASS
kCal/kg
3.600
3.600
3.600
BIOMASS NEEDED TO SUSBSTITUTE OIL
tons
2.550
3.400
4.250
% SECONDS ON SEASONAL CEREALS PROD.
%
2,83%
2,83%
2,83%
SECONDS AND WASTES VALUE
€/q.le
35,29
35,29
35,29
Positive outcomes achieved by ENERGYMAIS
REDUCTION OF FOSSIL FUEL USE
SAVINGS ON FUEL COST UP TO 100%
MINIMIZING ASHES TO 2% - REUSABLE
SAVINGS ON WASTE DISPOSAL UP TO 100%
REDUCTION OF CO2 EMISSIONS IN THE ATMOSPHERE